Guestbook of our summer

.....after the steep stairway to heaven, we came into your little paradise. The splendid view, the quietness, th beautiful house and surrondings made every thing complete....
Kees, Joelle, Annemijn, Julot and Luna (Nederland)

......Words cannot describe enough what a great and wonderful time we had and the kindness and the hospitality of the two of you!!For us it was a small paradise....
Jeroen and Radka (Holland)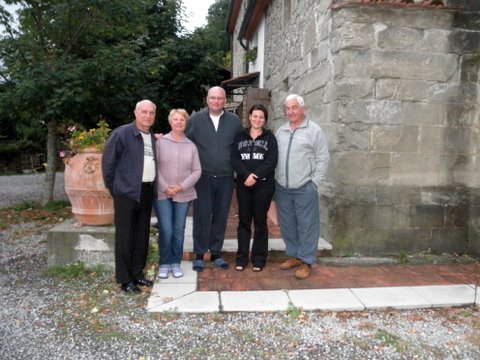 .......in Popiglio we met two very nice people: Barbara and Luciano. Thank you for your good cares and hospitalitys we found some new friends here. we hope tosee each other in the future again
Mirko and Shnezjina (Bulgaria)


... thank you so much for us letting enjoy your paradise: we will never forget this place and I hope we will be back....
Arthur, Bouchra, Eleana and Jimmy (Holland)

......We spend a lovely holiday under the Tuscan sun in your fantastic house. The view was stunning and we are totaly relaxed due to the peacefull mountains...
Rutger and Michelle (Holland)

....You showed us our place for the week and it was as if we would be "owners" of a little marvelous castle! We were treated as if we were prince and princess!!!.....
Ronald and Hester (Holland)

...we loved all the nice details of the interior and the beautiful senary from our living room and the veranda. It exceed all our expectations...
Peter, Judith, Nadine, Fabienne (The Nederlands)

...we seek for a quiet environment and we found it. A house with plenty of room which made it a pleasant stay...
Jancees, Ingrid (Olanda)

...we felt in love with this place in Toscana! What a nice house, beautiful mountains and what a silence !...
Jan, Raju, Lieke (Olanda)