Tiziano Terzani

Tiziano Terzani, a famous writer, journalist and war correspondent for the newspaper "Der Spiegel" lived on the Pistoiese Mountain.
He told stories of the Asian world for more than 30 years from the war of Cambodia to the Vietnam war, from the death of Mao to Tiananmen Square.
He did not limit himself to reporting facts and events, he got involved, and was in close contact with the population of his reports, wanting to know everything about them, and living the daily life they led.
This charismatic figure felt at ease in a white cotton Indian-style robe and with his unkempt, long white beard, he looked like an ascetic but it was enough to hear him speak to realise how in touch he was the reality of the world.
He had lived in India at the foot of the Himalayas, but he also loved the Pistoiese Mountain profoundly, where, since he was a child, he had spent his summer holidays.
He felt a particularly strong connection to Orsigna, which he considered his "school of life".
Orsigna became Terzani's refuge, and it was there that he chose to spend the last days of his life. In order to do honour to the remembrance of its distinguished figure, Orsigna has dedicated an itinerary to him, which drives into nature and silence, and gives every man the equilibrium that he must learn to carry inside.
www.tizianoterzani.com

Ferrucciano museum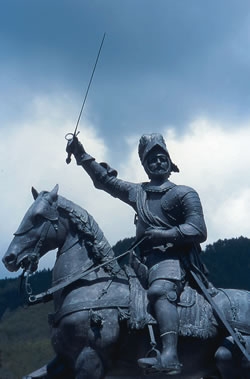 In the square of Gavinana, in front of Francesco Ferrucci's equestrian statue, stands the Ferrucciano museum.
It is traditionally believed that Francesco Ferrucci – the Florentine hero – died at the entrance of this building .
The museum – inaugurated in 1931 – is actually composed by four rooms and two halls in which interesting documents on his life and military exploits, halberds, iron body armours, letters, commemorative stamps, drawings and oil-paintings regarding the Battle of Gavinana are displayed.
There are also flags that date back to 1847.
Take note of a great plastic model which indicates the distance covered by Francesco Ferrucci to reach Gavinana and a diorama in which the battle of 1530 has been reconstructed.


Palazzo Capitani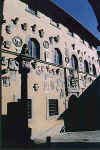 A beautiful palace, which today is used as the town hall, stands as a testimony to the era of the captaincy of the mountain in Cutigliano.
In 1377 a plot of land was bought upon which was built the palace from which the captain of the justice would have carried out his duties.
Later, it was decided that the captain's base should alternate between Lizzano and San Marcello.
While the castle of Lizzano and the praetorian palace in San Marcello have been destroyed, the palace in Cutigliano has remained intact, although there have been modifications over the years.
The imposing building and square represent the heart of the village today.
The building is compact and sober, recalling typical motifs of the Florentine Renaissance style.
The façade has three orders of superimposed windows framed in pietra serena: perhaps the most attractive being the central arched order.
The smaller upper windows were added in 1700, and those on the ground floor following modifications in 1930.
The entrance door is crowned with ashlars.
The feature that visitors find most striking is the series of coats of arms that decorate and characterise the façade.
Different captains wanted to leave the heraldic emblems of the great Florentine families, from which they came, as a visible reminder of their time in office on the mountain.
There are seventy-seven on the façade, and another eighteen on the left wall of the building and in the hall.
Generally they are made of stone, glazed terracotta, only one is painted. Almost all of the emblems carry a memorial inscription to the respective captain.
Link:
www.pistoia.turismo.toscana.it
www.lamontagnapistoiese.it
Many thanks to Gabriella Aschieri, writer of the book "A spasso per la montagna pistoiese - Itinerario di una comunità".